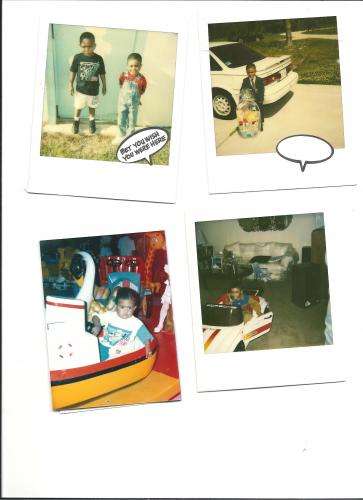 Andrea was borned to Gidget Lewis who was a young 19 years old woman. He was born one night at Herman Hospital in Houston,Texas.I was at working doing sixteen hour shift. Soon as the next day came which was April 29th I and his grandfather went to see him and my daughter.
I picked up this tiny bundle of joy. I remember just kissing him and just did want to put him down in the crib. Oh I went out and brought all kind of baby clothes,basinet,baby bottles, pampers,to be prepared to bring this small bundle of life home once he would be release from the hosptial.
My daughter knew this baby meant the world to me and she would allow me to keep him only when I would pay her money. Never did I realize that one day I would be the one to raise him from 2 yearsold and see him grow into manhood. That day I had to come back to Houston,Texas was in April 1991. This grandson would travel many miles with me. He became my life and my world.
Never in my life would I think that Andrea would die before me or I would be planning his funeral.
Andrea known as DreSkool to his friends and community was gunned down at 6503 Wanda Lane in
Houston, Texas at about 6:30 PM on one day after he would live to just turn 20years old on April 29, 2009. It was many witnesses to this brutual,senseless, evil killer senseless,cowardly killer act.